Current MD, Ian Buckley, learnt the ropes in his father's factory at the age of just 15. Under his leadership, the Company has gone from strength to strength, tripling business and more than  doubling its number of employees since 2008.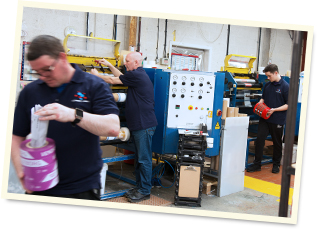 Continuous Innovation.
The reason our business has never stood still is because we've moved with the times. Our pioneering products have allowed for major breakthroughs in labelling polymer products. Putting the power of the world's most advanced polymer labelling technologies in the hands of our customers.
Future Focused
We have an ongoing commitment to investing in the latest equipment. Which ensures we not only keep pace with demand, but also with advances in manufacturing techniques. Our in-house team of experts continues to stretch the possibilities of polymer labelling to allow new technologies to reach their full potential.
Our customers always come first.
Delivering exceptional customer service is our primary goal. We'll move mountains to overcome technical problems, meet the tightest timescales and refine vulcanizable label designs to suit your specific needs.
Our Polymer Technologists are experts in their field. They will find a way around any problem, continuously testing and developing products that dovetail technological developments. If anyone can; Polymeric Labels can.
OUR VALUES
We are PASSIONATE about exceeding your expectations. We want to provide you with a quality product supported by our excellent technologists and customer service teams.
We are continually INNOVATING products to solve our customers problems….it's what we do. Tell us your problems we would love to help you.
Polymeric is QUALITY. It's part of our DNA which is why we check every print to ensure its within specification.
We know where you're coming from
It's the people that make Polymeric Labels. Everyone who works for us in Sales, Management and Development is a qualified Polymer Technologist who speaks the same language as our customers – servicing clients across 30 countries worldwide. We understand the challenges you face and can deliver fast, cost-effective solutions to the most demanding branding problems.
Ian Buckley

Managing Director

Greg Marlor

USA Plant Manager

David Mansfield

Technical Manager
Call us
now to discuss your needs on
+44 161 678 9005
or
+1 785 856 0402
Let's discuss your project today
Call now to discuss your needs on +44 161 678 9005 or +1 785 856 0402 or email cs@polymericlabels.com